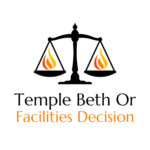 The results are in! With strong participation, our direction has been made clear. 60% of Temple Beth Or voters support remaining on Lombard Avenue.
Now that this decision has been made, it's time to take the next steps. We will hire an outside consultant to conduct a financial feasibility study. This study will begin in January and will take 3-5 months. The results will enable us to match the size and scope of the project to our fundraising potential. With that information, we will refine and finalize architectural plans and embark on a fundraising campaign.
We will continue to post updates on the Facilities Planning page on our website, and will keep the congregation informed of the next steps as they develop. Members will be asked to approve a construction contract sometime in 2022.
Thank you to all of the members who engaged so thoughtfully with this critical decision. Out of 199 eligible voters, we had turnout of 76% – an excellent demonstration of our shared commitment to the Temple Beth Or community.