Ingredients
1 ripe avocado
2 T sugar
2 T water
2 T vinegar
2 T ketchup
2 T butter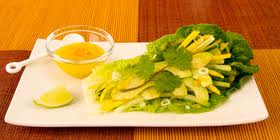 Directions
Cut the avocado in half and remove the pit.

In a small saucepan, heat the sugar in the water until the sugar dissolves.

Stir in the vinegar, ketchup, and butter. Add salt and pepper to taste.

Cook the mixture over low heat 15 – 20 minutes until it thickens, stirring occasionally.

Place the dressing in the center of the avocado halves while the dressing is still warm.