Ingredients
1 lemon
1 orange
2 bottles dry red wine
1 c sugar
2 c orange juice
8 whole cloves
1 cinnamon stick
Mint leaves for decoration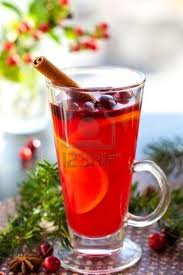 Directions
Peel the lemon and cut the peel into thin strips. Cut the orange with the peel into round, thin slices. Cut each slice into 6 – 8 triangles.

Mix the wine, sugar, juice and spices in a large pot. Add the lemon peel and the orange triangles. You can do this several hours ahead of time so the taste of the spices is absorbed.

Bring the punch just to the boiling point (but do not boil), stiringr to speed up the dissolving of the sugar.

Pour into a serving bowl. When you serve, make sure each glass has orange slices, and garnish each with mint leaves.