Ingredients
1 small onion
minced
1 Tb. Schmaltz (or butter
or margarine
or oil)
1 egg
1/2 cup medium Kasha
1 cup water (or chicken stock)
1 cup bowtie noodles (varnishkas)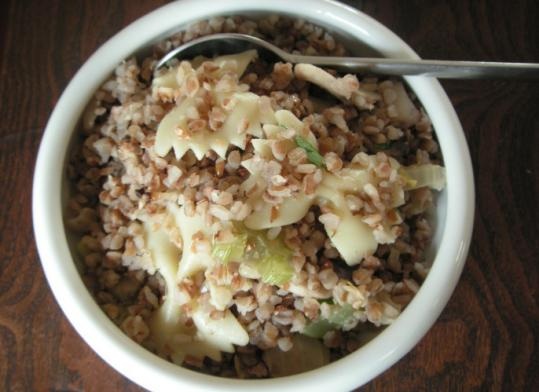 Directions
In a saucepan that has a lid, sauté the onion with the schmaltz.

Beat egg in bowl, add kasha to egg and mix thoroughly.

Dump egg mixture into saucepan with onion, immediately add water, stir thoroughly and cover. Cook over medium low heat until all water is absorbed, 10-15 minutes.

Meanwhile, boil varnishkas in salted water, drain when tender.

Fluff kasha with a fork, mix with varnishkas.