Ingredients
4 to 6 sheets unsalted matzoh
1 cup unsalted butter (substitute margarine for non-dairy)
1 cup firmly-packed brown sugar
big pinch kosher salt (omit if using margarine)
1 cup chocolate chips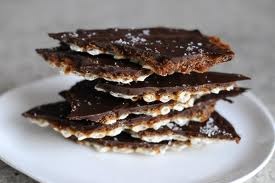 Directions
Preheat oven to 375 degrees

.

Line an 11" x 17" rimmed baking sheet completely with non-stick aluminum foil, making sure foil goes up and over edges

Line bottom of baking sheet with one layer of matzoh, breaking matzoh as needed to completely cover pan.

In a heavy-duty saucepan melt butter and brown sugar together. Bring to a boil over medium heat while stirring. Boil 3 minutes, stirring constantly. Remove from heat, stir in salt, and pour over matzoh, spreading with a heatproof spatula.

Put pan in oven and reduce heat to 350 degrees. Bake for 15 minutes, watching closely so that it doesn't start to burn. If it starts to burn, remove from oven, lower heat to 325 degrees, and replace pan in oven.

Remove from oven and immediately sprinkle with chocolate chips. Let stand 5 minutes, and then spread melted chocolate over surface.

Cool completely, break into pieces. Store it in an airtight container.